***Due to supply issues some colors are fluctuating. We'll let you know if we are shipping a non-black pair but if you care a lot about color feel free to email us before you make a purchase and let us know your size. Thanks!***
Rodeoh Harnesses and Packing underwear have a loyal and big following and we think we know why..  these soft and easy-to-wear are a great choice for packing or playing and discreet enough to wear everyday.
You can access the hole from the front or the back, making it possible to put in or switch your packer/toy without taking this off.  These tend to work best with flat-base dildos.
Our original boxer harness has been UPDATED! The Boxer+ Harness is comfortable and stylish. Fashioned like a pair of boxer briefs, this fitted harness removes the need for complicated straps and buckles, and is newly designed with multiple layer fabrics and vibe pockets in all the right places!
The unisex Boxer+ Harness features a 1.5" band and has a smaller O-ring for those using smaller dildos. It's 1.5" diameter O-ring can be used with any dildo that has a 1.5" diameter or less.

+ 1.5 Inch "O" Ring.
+ Packer Friendly.
+ Unisex.
+ 95% Cotton, 5% Spandex.
Care Instructions: Machine wash cold, tumble dry low.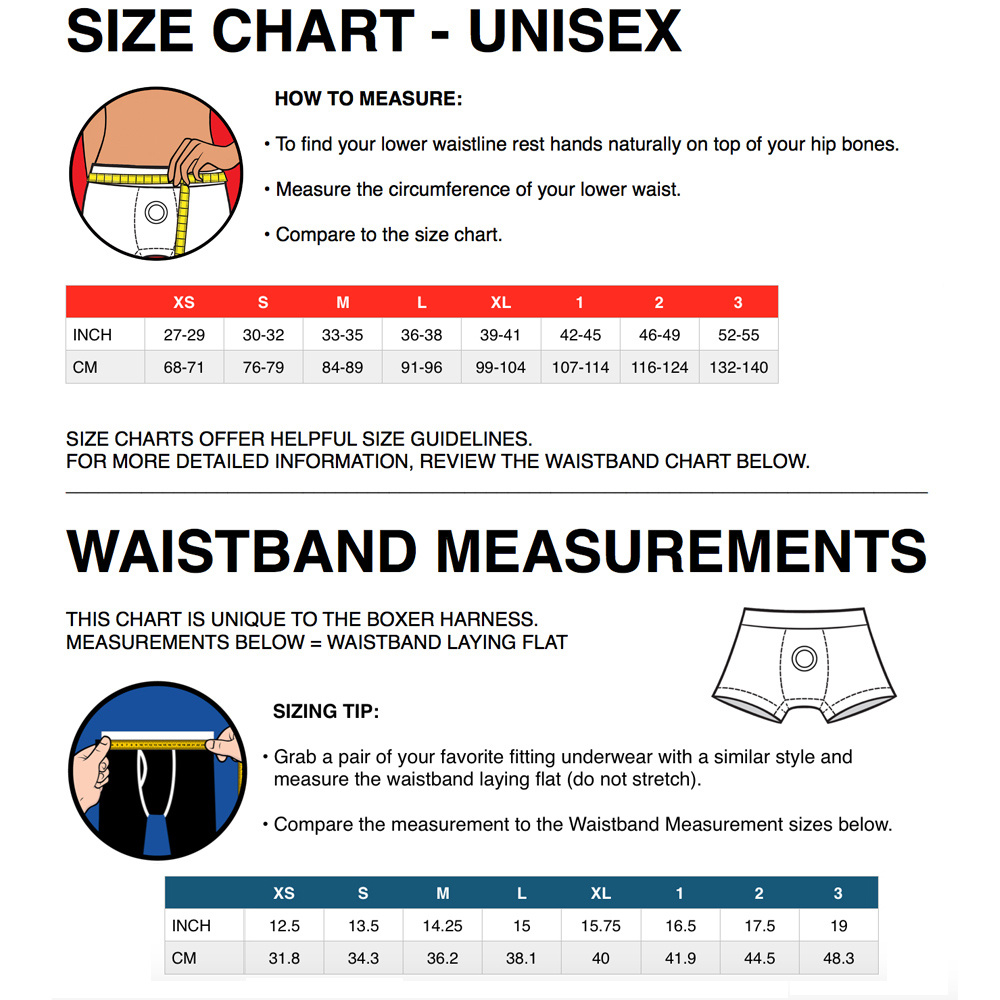 What we love about RodeoH 
• Underwear you can F*** with = awesome 
• Soft cotton fabric 
• Hot styling
What we think you should know: 
• These will not fit all dildos: girthy ones may not fit in, and heavy dildos may hang forward. Smaller dildos may need a stabilizer behind the O-ring.
• Like underpants, these will have a life-span that is shorter than your average dildo harness, but you can increase their longevity by treating them with care: Machine wash or delicate or hand wash and hang to dry. Do not boil or put in the dryer. Wear as underwear, or with another pair beneath them.
| Komaeda
27-06-2019 00:01
I ordered mine one size too small so that's my bad but they still fit pretty nice!! They are SUPER soft and comfy too! Perfect for packing!
| Whitney
03-04-2019 19:33
Pros:
- These underwear are SEXY!
- Great for packing
- Easy for a quicky anywhere you'd like.
- Easy to use
- Comfortable materials
- Strong ring to keep piece in place

CONS:
- They will stretch which can lead to some awkwardness in the bedroom
5
stars based on
2
reviews