ALL SALES ARE FINAL AND YOU MUST BE
18 YEARS OR OLDER TO PURCHASE FROM THIS SITE. 
Yes, yes.. every order is shipped very discreetly!
Return Policy
***Returns are only accepted for defective items. We do not accept returns if the customer simply dislikes the purchase.***
For battery operated toys: We inspect every item before it is shipped out. Battery-operated items are tested and only shipped if they are in working order. However, if a battery-operated item fails to work within 60 days from date of purchase, we will gladly replace it or exchange it for a different item. When returning a defective item in person, please bring your receipt into the shop, make sure your toy is clean and include all the original packaging (or as much of it as you have).  
For rechargeable toys: All rechargeable toys have at least a one year warranty. If your rechargeable toy is not charging or operating correctly, email us to let us know what the issue is. If you made your purchase less than one year ago, we can replace the item or offer a refund. Some toys have longer warranties through the manufacturer. When your new toy arrives be sure to read any included material and save your receipts so you can take advantage of manufacturer's warranties. Ask us if you have questions about a specific toy. 
When returning via USPS: If returning an item through the mail, you must contact us before returning that item. We cannot accept returns on items that have been damaged by the customer or after delivery (meaning items that arrive fine but then are cracked, ripped, broken or otherwise physically damaged while in your possession). If there is visible damage on a product that is returned for being defective, we will not be able to accept it. Also we cannot and will not accept any returns that arrive back in our store in an un-clean manner. Those items will be disposed of and no exchange or refund will be made. Please to not endanger the health of our staff by sending us back un-clean toys.
Any problems or shortages with your order must be reported within 24 hours of receipt.
If you are unhappy with your purchase but the item is not defective:
TO PROTECT THE HEALTH AND SAFETY OF OUR CUSTOMERS, WE CANNOT ACCEPT ANY RETURNS ON ANY NON-DEFECTIVE MERCHANDISE (think about it, would you want to shop at a sex shop that did accept returns?). We do not issue any refunds. We also cannot accept any book returns. We cannot accept in-store returns without a receipt. We will cancel any orders where we cannot verify the billing address or if it appears fraudulent.
Please shop carefully and contact us with any questions you have before placing your order. When checking out via our website, you are agreeing to our return policy.
If you'd like us to consult with you before you make a purchase we are happy to do so. Just call us at 773-271-1219 or email [email protected]
••••••••••••••••••••••••••••••••••••••••••••••••••••••••••••••••••••••
Placing Your Order Online
Please make sure that you fill out the order form completely. We MUST have a valid phone number that matches the billing address for your credit card. We will not call you at this number unless the email address you provided to us does not work and there is a problem with your order or credit card number. Will not ship packages to US addresses that use international credit cards as we cannot verify the address. We reserve the right to request further info or cancel orders that appear suspicious or whose billing information cannot be verified by our credit card processor.  
YES WE DO SHIP TO APO/AE ADDRESSES! Unfortunately our checkout does not have that option for AE as the state, but you can select any other non-IL state (so you don't get charge taxes) and put a note in the Comment box that this is an APO/AE address. Thanks! 
Please be sure to include any apartment or suite number on your order. If your order is undeliverable because the apartment or suite number was not provided, you will be charged for re-shipment or any correction charged imposed by USPS. You should also provide us will your last name. Without one there is a possibility of your order being kicked back to us or the post office not releasing it to you. If you do not provide us with your full last name at check out we will still ship it, but if it bounces back to us, you will be required to pay return shipping. 
After you place your order, you will automatically be emailed a confirmation. Check your spam or trash folder if you do not receive this confirmation within 24 hours or you can contact us to make sure that we received your order. Once an order has been shipped it cannot be cancelled. 
If there are any questions or problems with your order we will contact you via email, so check your email 24-48 hours after your place your order. If you need to cancel your order, let us know right away as once the order is shipped out it cannot be canceled.
Placing your Order via the Mail
You are welcome to send in an order with a Money Order for the full amount. Just fill a basket online and begin the checkout process. When you get to the page where your shipping is calculated, print out the page and send it along with your payment (made out to Early to Bed) to 5138 N Clark st, Chicago, IL 60640. You can also send us a note with all the pertinent information, just be sure all your contact and shipping information is on the note.
If you are unsure of the total for your order, please contact us before you mail your order in. If we receive your order and there is not enough money included for shipping, we will be unable to process your order. 
••••••••••••••••••••••••••••••••••••••••••••••••••••••••••••••••••••••
Shipping & Pick Up Options
You have two choices when checking out for domestic orders: USPS Priority Mail or In-Store Pick up.
USPS Priority Mail
All orders are shipped out as soon as possible, usually within two - three business days via USPS Priority Mail, but please allow up to eight business days for your order to arrive. While we make every effort to insure that all items on the website are in stock, from time to time an item that you ordered may be temporarily unavailable. If that is the case, we will notify you via e-mail as soon as possible and you will have an opportunity to change or cancel your order. We are real people, not robots so we appreciate your patience with us especially around extra busy times like the holidays (trust us, you'll appreciate the fact that we are real people should you ever need our help!). Please know that we pride ourselves on working very hard to process orders quickly and make you as happy as we can!
USPS will return packages that are unclaimed. If a package is returned to us (including packages that are unclaimed at the post office, refused or have a delivery address that was incomplete as given to us by the customer) and the customer requests that we reship it, the customer is charged for the reshipping, even if they have selected free shipping on the original order. If a customer decides that they do not want their order shipped again, it can be picked up at the shop or the order can be refunded (minus shipping charges and a 20% restocking fee). 
We ship all our packages discreetly in plain brown or USPS Priority Mail boxes. Sometimes we do use recycled boxes but they are from non-adult related companies. The return address used is ETB/TE. The boxes never indicate what is inside or what type of business we are. Below is an example of what an order looks like.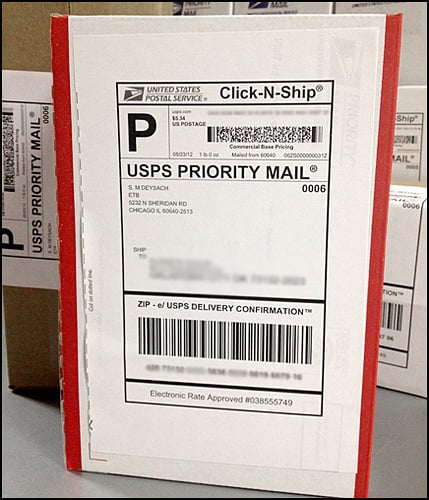 In-Store Pick up
You can select this option to pick your order up in our Chicago shop during regular business hours. We'll pack your order and let you know when it is ready for pick up via email. Please allow 24 hours+ for your order to be ready. If you are in a hurry, call us at 773-271-1219 and we'll see if we can get your order ready faster.
We'll email you two additional times to remind you to pick up your order if it is not picked up within a week. After the third email, if we have not heard from you, we will cancel your order and refund you minus a 15% restocking fee. 
••••••••••••••••••••••••••••••••••••••••••••••••••••••••••••••••••••••
US Priority Mail Shipping Charges
Please note the free shipping for orders $100 and above only applies to orders being shipped within the US. These orders will be shipped via USPS Priority Mail. All orders with a value of $200 or more require a signature upon delivery. Orders of $350 or more may require a photo id and signature for delivery. This is to protect both the customer and us. 
If you select the FREE SHIPPING option and something is out of stock on your order, you will be given the option of having your whole order shipped together for free or having it broken up for an additional $5.50 fee. 
When making a claim on your order: If you need to make any claims regarding items not being received or received incorrectly, it must be in a timely manner. For items that arrive damaged or are incorrect please notify us immediately upon package arrival. All claims regarding incorrect items must be make within 48 hours of the tracked delivery time. 
If you do not receive your order: For domestic packages not received by the customer, we can only process claims within 30 days of the date you placed your order. If a claim is made to us after 30 days we are unable to replace the item/s. Additionally, if your package is marked DELIVERED by the post office but you did not receive it, we are unable to offer you any refund but depending on the circumstance we may be able to replace it. Domestic packages will not be considered missing until at least 20 non-holiday weekdays have passed since the item shipped. The postal service is pretty great, but sometimes things go awry and take longer than expected. 
••••••••••••••••••••••••••••••••••••••••••••••••••••••••••••••••••••••••••••••••••••••••••••••••••••••••
For information on International Orders please click here.