Welcome to Early to Bed's Guide on How to Use Nipple Clamps, plus the best nipple clamps for beginners, experts and every body!
Best Nipple Clamps (2023) - How to Use Nipple Clamps
Welcome to Early to Bed's Guide on How to Use Nipple Clamps, plus the best nipple clamps for beginners, experts and every body!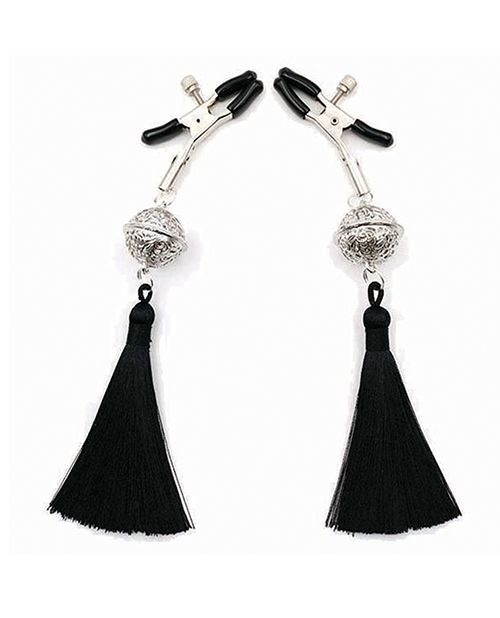 What is a Nipple Clamp?        
A nipple clamp is an adult sex toy that creates constant stimulation on the nipples. This sensation can vary in intensity based on the style used. Ad=bd yes, all kinds of people use nipple clamps!
Different Types of Nipple Clamps
There are many different types of clamps that provide a range of stimulation. Some are designed for experienced users and others are better for the person who is just trying them for the first time. Some are better on smaller nipples and others works best on larger nipples. At Early to Bed, we carry adjustable nipple clamps and styles that are not adjustable.
Tweezer. This style of clamp have a small ring that slides up and town to allow you to adjust the tension of the tweezer-shaped clamps. The tips are covered in rubber for comfort and safety. These are usually connected by a chain, but not always.
Screw. These have rubbers tips and a metal screw that allows you to set the tension your liking. Again, this often have a chain, but not every pair does. They may also sport charms or other doodads on the ends.
Clover Clamps. One of the more advanced clamps and only recommended for those with experience, these are very tight clamps that are not adjustable. They rank very high on the intensity scale.
Magnetic. Magnetic clamps are really just two strong magnets that you place on either side of a nipple. They are strongly attract to each other so they snap together with your skin in-between the magnets. 
Vibrating. These clamps have the added benefit of mini vibes to increase sensation! Clip them on and go about other activities! We love our Rechargeable Nipple Clamps
Choosing the best Nipple Clamps for you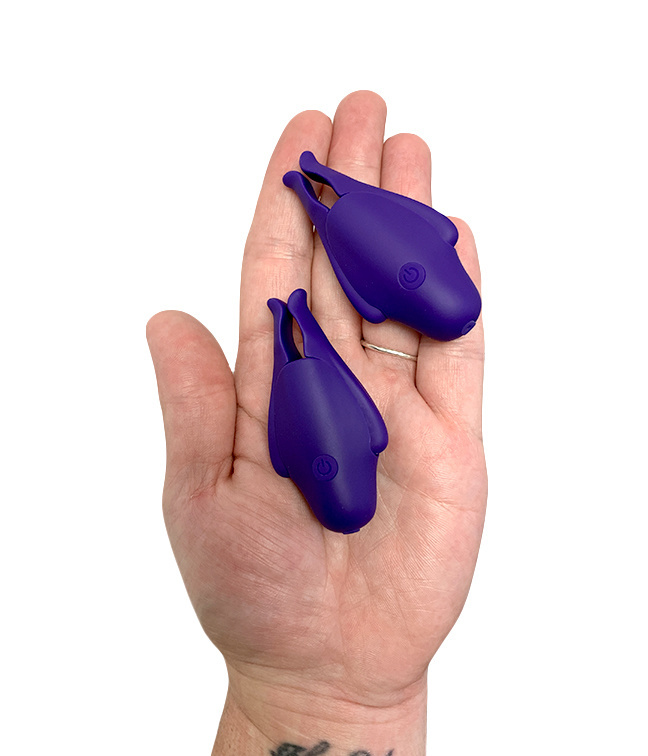 First you want to think about how much pressure you like on your nipples. Are you looking for a real intense sensation? Or do you want to more gentle tease?
While some clamps will bite down like nobody's business, others are adjustable and can be put on with just a small amount of pressure.
How to use Nipple Clamps
Using nipple clamps is pretty easy, but may vary depending on the style. If they have a screw, then you want to open them up as wide as possible with the screw. Then put them on your nipples. Once they are attached, start tightening the screw until you reach the desired intensity.
The adjustable tweezer design also allows you to vary the intensity. First slide the small ring all the way down to allow the rubber tips to be as open as possible. The place the tips over the nipple and slide the ring up towards your nipple until you have reach the feeling that you want.
Nipple clamp techniques
If this is your first time using nipple clamps, we suggest an adjustable set like the Tassel Couture Nipple Clamps.
Put them on correctly
While you can certainly use nipple clamps however you want, ideally they will be tight enough to hold on but not so tight that you are in unwanted pain.
Build up in time
When you start to use Nipple Clamps, yo may find that wearing them for a few minutes is enough, but over time your tolerance may build up and you find that you can wear them for longer periods.
Add in other erogenous zones
For some people using nipples clamps on their own will be a tantalizing and fun experience, but most people Weill find that engaging other erogenous zones at the same time heathens the experience. Wear clamps while you are engaged in genital stimulation or light BDSM play. Nipple clamps pair particularly well with a blindfold and some restraints.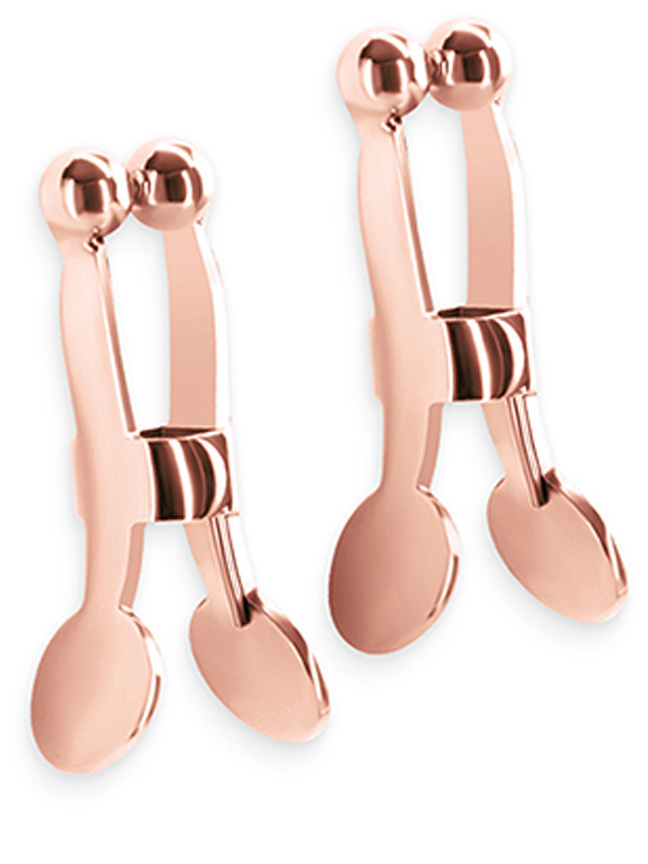 Keep at it
If you are not super keen on the sensation the first time, try it again later. Our bodies sometimes need a little bit to get use dot new sensations so while your first use might not be super awesome, you may find you like them much better the second or third time you give them a go!
When you want to take them off, don't yank!
When you are ready to remove your clamps gently unscrew them or open them before you try and take them off.
Don't be surprised if you can still feel them after they're off
Once they are removed you may still feel some residual sensation. Don't panic, that should wear off soon.
What are the benefits of nipple clamps?
Hands-free nipple stimulation.
Nipple clamps are a great way to have consistent nipple stimulation while your lovers hands are doing other things.
To intensify orgasm.
A LOT of people find their orgasms can be intensified when there is consistent stimulation on their nipples the same time.
Because they look hot.
Let's just admit it.. nipple clamps are a sexy piece of jewelry that can intensify sensation as well as just look good. While there are some very utilitarian styles there also fun ones with tassels and other jewelry items attached to them.
Our top picks for best nipple clamps in 2023:
Noir Pom Adjustable Nipple Clamps
Best Nipple Clamps for Beginners
Tweezer and Broad Tipped Nipple Clamps
Best Nipple Clamps for Advanced Users